Mailpacshopclub delivery guide
Delivery Information
Mailpac Local delivery systems are uniquely designed to provide you the ability to select
a convenient time to receive your purchases either during the day or night. You can pre-book
your delivery slot during check-out and be assured that the goods will be delivered as per your
booked slot. To maintain the freshness and quality of frozen, chilled & fresh food we have
equipped our delivery vans with cold storage devices which maintains frozen and chilled range
temperatures.
Delivery slot:
Mailpac Local provides a unique service and promise of delivering your order same day or
next day based on the delivery slot selected by you. Our driver calls you to synchronize the
exact delivery time. This ensures certainty and aids in planned purchase of your household
needs and eliminates long waits staying at home without knowing the exact time of delivery
or even missing your delivery. Except Kingston and St Catherine we currently visit each parish
once per week. You can check the availability and book your delivery slot at the time of checking
out. For your convenience, we make deliveries on all 7 days in a week excluding holidays except
otherwise stated.
Order Cutoff time:
Our order cut off time may vary depending on how busy we are. All orders for next
day delivery should be placed before midday and express delivery option gives same
day delivery if orders are placed before midday.
We levy very nominal charges for the delivery of the orders and the delivery charge is based
 on the final destination.
The chart below can be used only as a guide
(actual delivery charges will be shown at checkout). 
Locations We Ship To
From store to your door with little or no restrictions.
Kingston
St Andrew
St Catherine
St Thomas
Portland
St Mary
St Ann
Trelawny
St James
Hanover
Westmoreland
St Elezabeth
Manchester
Clarendon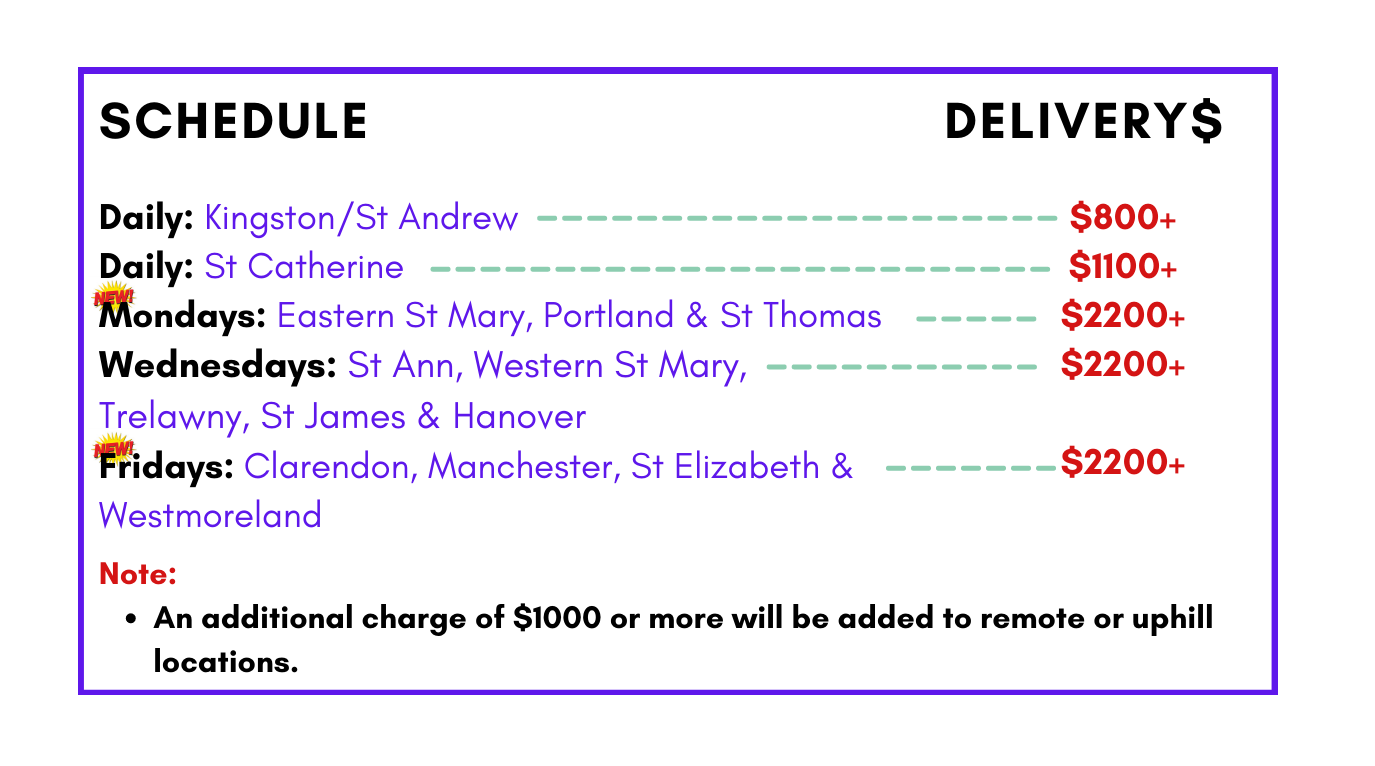 We will arrange the most economical way to deliver your order at a flat rate or through our courier partners. 
FOR MORE DETAILS:  whatsapp/call +1876-778-7467